Taping and Strapping Machine (TSM) - Signode
- Product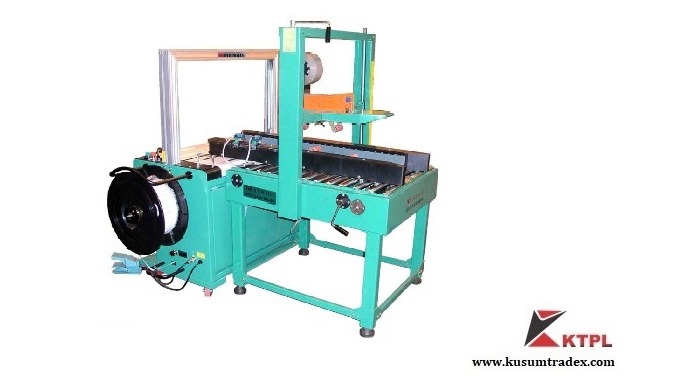 MAIN FEATURES AND BENEFITS
Extended Side drive holds cartons for better strapping
Logic control through PLC
Space optimization
Separate tool kit for easy maintenance
Operator friendly
Sensor based operation
Zero, one or two straps can be applied
...
Description of the Product
MAIN FEATURES AND BENEFITS
Extended Side drive holds cartons for better strapping
Logic control through PLC
Space optimization
Separate tool kit for easy maintenance
Operator friendly
Sensor based operation
Zero, one or two straps can be applied
Machine can be used on line or standalone
Digital counter with reset and no reset options
SPECIFICATIONS AND OPTIONS
Optional top drive for cartons having weight between 40 to 60 Kg
Optional three strap option.
Optional No tape, tape meterage counter
Power Supply: Three Phase, 415+5%V, 50Hz
CSM belt speed: 20 Meters/min
Tape Size: 2", 2 1/2" or 3"
P.P Strap Width: 9 / 12 / 15 mm
Strapping Tension: 0.5 to 70 Kgs
Strapping Speed: 2.2 sec/per cycle; 1500cycle/per hour
Min Pack Size: 300 (L) x 200 (W) x 150 (H) (mm)
Max. Package Size: 700 (L) x 500(W) x 500 (H) (mm)
Carton Weight: 5 to 40 Kg
Working Height: 810 (mm)
System Size (LxWxH): 1652 (L) x 1440 (W) x 1715 (mm)
Power Consumption: 1.22 KW
Price of the Product
Price on request
Characteristics of the Product
Brand

Signode

Certification

yes
I want to get more details about the product
Company catalogues - Kusum Tradex Private Limited