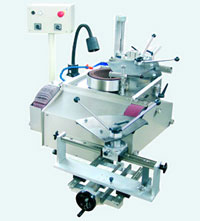 grindingcenter table-type

professional grinding machine with stand to grind knives for the meat industry

Large cup grinding attachement with Ø 250 with a strong pole changeable motor for pregrinding of the knives. The cup wheel kann be sharpened with a diamond wheel dresser and can be face grinded.
Handgrinding wi...
Description of the Product
grindingcenter table-type

professional grinding machine with stand to grind knives for the meat industry

Large cup grinding attachement with Ø 250 with a strong pole changeable motor for pregrinding of the knives. The cup wheel kann be sharpened with a diamond wheel dresser and can be face grinded.
Handgrinding will be improved by using the optional offered grinding attachements for knives in sickle form and linear bowlcutterknives as well as for round knives.

The finish grinding of the knives will be executed by the help of a grinding band of 75 x 1600mm at a
contact disc, there are 2 switchable speeds to grind in an optimal way. During grinding the knife does not get overheated because of the long grinding band and the cooling. Due to the long grinding band and the cooling the knife gets not too warm during the grinding process. One can easily change the grinding band by the help of a quick fixation attachement. With the optional available grinding attachement for bowlcutterknives in sickle- and linear form the hand grinding is much easier.

The knife will be polished with the large lamellar brush Ø 250. The machine has large rests that enable the industrial use. Optional there is a cooling tank available that enables the necessary wet grinding of the knives.The cooling emulsion can be seperately regulated for the cupwheel and the grinding band.The machine is solid and has a stainless casing. So the machine is well equipped for the industrial use and easy to clean.
Technical data:
bandgrinding-/polishing motor, switchable 1,1 kW, 1000/3000 U/min
grindingwheelmotor, switchable, 0,75/1,1 kW, 1385/2770 U/min

height: 700 mm
width : 900 mm
depth : 950 mm
weight: approx. 100 kg
connected load: 2,3 kW, 3 x 400 VAC, 50 Hz, 16 A
equipment of the basic machine:
- 1 x contact disc  250 x 75
- 1 x lamellar brush  250 x 75 P 240; 2 speedsof revolutions: 230/461 U/min
- 1 x grinding disc  250 x 80 A 60; 2 speeds of revolution: 692/1385 U/min
- 3 x grinding band 75 x 1600 K80, 3 x grinding band 75 x 1600 K120
- wheeldresser with wheeldressing diamond 10 x 0,3 metric carat
- cooling tanc 30l with pump 5l/min
optional components
- grinding appliance for sickle formed bowlcutterknives at the cup wheel
- grinding appliance for sickle formed and linear bowlcutterknives at the cup wheel
- grinding appliance for round knives up to Ø 500 mm at the cupwheel
- grinding appliance for sickleformed and linear bowlcutterknives at the grinding band
- cooling tanc 30l with pump 5l/min
- concentration of cooling agent 5l
- lamp 230V

Price of the Product
Price not indicated