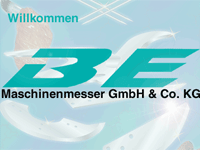 BE Maschinenmesser is a middle sized Company situated in Brandenburg one of the federal States of Germany. BE Maschinenmesser has specialised in the production of machine knives for the food processing industry.

Our most important product groups are knives for the meat processing industry. We produce knives for slaughtering and deboning
Description of the Product
BE Maschinenmesser is a middle sized Company situated in Brandenburg one of the federal States of Germany. BE Maschinenmesser has specialised in the production of machine knives for the food processing industry.

Our most important product groups are knives for the meat processing industry. We produce knives for slaughtering and deboning as well as knives for the meat packaging. Our range includes knives for poultry processing, the fish industry and knives for vegetable processing. Also knife sets and high-performance cutting tools for industrial mincer belong to the program.

Our management system is certified according to ISO 9001/2008.

Price of the Product
Price not indicated
Category of the Product