Contact - SONGHWA FOOD
103, Yeomjeon-ro, Michuhol-gu
Incheon 22107
South Korea
Legal information - SONGHWA FOOD
| | |
| --- | --- |
| Nature | Headquarters |
| Year established | 2003 |
| Activity | |
| Co.Registration No | 131-16-31152 |
| No employees (address) | 3 Employees |
| No employees | 3 Employees |
Presentation - SONGHWA FOOD
Gold medal seaweed, Premium seaweed, Korean seaweed, Contain omega-3, Seaweed snack, Dried Seaweed, Laver Snack, Seaweed Snack, Laver, Organic seaweed, Crispy seaweed, Compressed seaweed, For sushi seaweed, High quality seaweed, Miyeok seaweed, Roasted seaweed, Korean seafood

#Company introduction
"Goldmedal laver" puts customer health first.

We aim for the highest quality.


How can we supply delicious and high-quality seaweed to our customers?

To realize this challenge, we are realizing our big dream with the ultimate goal of producing products that customers can trust and satisfy by carefully selecting and using raw materials to match the name of the "Gold Medal Kim" brand.

Songhwa Food has always offered the highest quality to its customers at a reasonable price, provided that the 21st century food market does not survive.


First, enterprises that prioritize customer health

Second, the highest quality enterprise

Third, it is a company that realizes the premise that price is the right price.


All executives and employees are making every effort with the confidence that the company will develop together when consumers always trust and find safe and high-quality products.

# Main
Products
- Goldmedal_laver mini lunch box Premium

- Goldmedal_laver compressed

- Goldmedal_laver Olive laver Snack

- Goldmedal_laver Twice Roasted Kimbap laver (Shisi nori)

# Video
https://youtu.be/0aiFhcUdyZU
# Catalog

https://prokcssmedia.blob.core.windows.net/sys-master-images/hd7/h31/9710621294622/catalogue.pdf
Company catalogues - SONGHWA FOOD
Company's Videos - SONGHWA FOOD

General Information - SONGHWA FOOD
Export area
Central/East Europe, Asia-Pacific, Asia-Pacific, Asia-Pacific, Asia-Pacific
Russian Federation, Viet Nam, Taiwan, Japan, Hong Kong
Jongbae Kim
CEO - Chief Executive Officer
I WANT TO GET MORE DETAILS ABOUT THE OFFER SONGHWA FOOD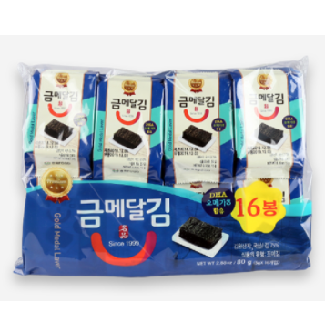 Goldmedal_laver mini lunch box Premium
From Sep 28
***Goldmedal_Laver, who puts top priority on customer health, is special from raw materials...
Using top-quality "Chosari" raw mat...
Opening hours - SONGHWA FOOD
Key figures - SONGHWA FOOD